Board & Election Information
Board Members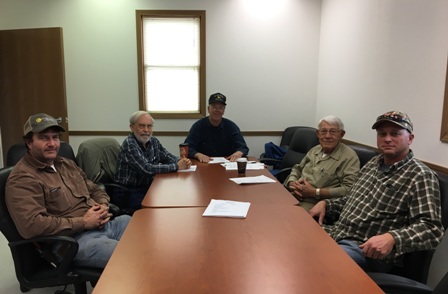 Grundy County SWCD Board of Supervisors
Areas Served:

Trenton (East of Highway 65), Jackson (East of Highway 65), Marion, and Wilson townships

Years Served:

Since 1997, Term Expires Spring 2021

Areas Served:

Franklin (East of Highway 65), Lincoln (East of Highway 65), Myers, and Liberty townships

Years Served:

Since 2014, Term Expires Spring 2021

Areas Served:

Trenton (West of Highway 65), Jackson (West of Highway 65), Madison, and Jefferson townships

Years Served:

Since 1995, Term Expires Spring 2023

Areas Served:

Washington, Harrison, Taylor, Franklin (West of Highway 65), and Lincoln (West of Highway 65) townships

Years Served:

Since 2019, Term Expires Spring 2023

Secretary (University of Missouri Extension) Field Specialist in Livestock
Board of Supervisors Meetings
Meeting Place:
USDA Service Center, 3415 Oklahoma Ave., Trenton, MO 64683.
Meeting Date and Time:
Third Monday of each month at 9:00 a.m. (subject to change due to holiday)
All meetings are open to the public with the exception of executive sessions. If you wish to be on the agenda, please notify the district office prior to the meeting. Please contact Heather Keith at 660-359-2006, ext. 101.
Election Information
Next Election: March 2021 (Area 2 and Area 3)
Elections are held every two years.
To qualify for office, a candidate shall:
Be a land representative as defined in 10 CSR 70-4.010
Be a cooperator of the Soil and Water Conservation District
Reside in or own a farm lying in the same area where there is an expiring term
Be 18 years of age or older by the election date