Board & Election Information
Board Members
Areas Served:

Boles, Calvey & Prairie Townships

1503 Highway T

Labadie, MO 63055

Areas Served:

St. John's, Union & Central Townships

1501 Prairie Dell Road

Union, MO 63084

 

4870 Bucklick School Road

New Haven, MO 63068

 

Areas Served:

Boone & Meramec Townships

7475 Shawnee Ford Road

Rosebud, MO 63091

Secretary (University of Missouri Extension)

University of Extension Office

116 W. Main

Union, MO 63084
Board of Supervisors Meetings
Meeting Place:
Due to Covid Policy, meetings are held at different location. Please call the office to request meeting location for the current month.
Meeting Date and Time:
Second Tuesday of each month at 6:30 a.m., unless there is a conflict.
THANK YOU to all present and past supervisors who served on the FCSWCD Board!
The Franklin County Soil and Water Conservation District board members serve on a voluntary basis for a four-year term and receive no compensation for their time. Serving on the SWCD board is a rewarding experience. You become a representative of the farmers and landowners in your area and help make decisions that improve our natural resources. You will have the opportunity to meet many new people within our county as well as within the state of Missouri.
If you would like to serve on the board of supervisors for the Franklin County Soil and Water Conservation District, please call the office at 636-583-2303, ext. 3096 for full details.
Election Information
Next Election: Elections for Area I and Area III will be held February 2024.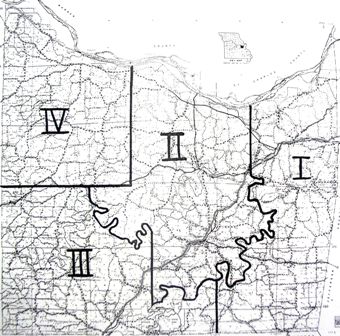 Elections are held every two years.
The qualifications required to be a supervisor are:
Being a land representative from the district (as defined in 10 CSR 70-4.010 (1) (I)). A land representative is defined as the owner or representative authorized by power of attorney of any farm lying within an area proposed to be established, and subsequently established, as a soil and water conservation district under Chapter 278, RSMo. Each farm is entitled to representation by a land representative: provided, however that the land representative is a taxpayer of the county within which the soil and water district is located.

Residing in, or owning a farm in, the area from which he/she is nominated where there is an expiring term.

Being a cooperator of the district, defined as, "a person who is actively engaged in farming and practices conservation activities related to agriculture".

Being a current resident and tax-paying citizen of the county for at least two years preceding the election date.

Being eighteen (18) years of age or older by the election date.