Although we were unable to host our 2020 Annual Meeting, we were able to present the following awards to those deserving people who work hard to put conservation on the land and assist us in our efforts to provide information/education to our County.
2020 Conservation Family Award
* FY20 Conservation Family of the Year Award goes to Richard and Connie Grellner.  Richard has been an active cooperator since 2001, working alongside his late father, Joseph Grellner.  He, and his wife Connie, have been instrumental in establishing a huge grazing system with 18 watering facilities running off of two wells, spanning over 185 acres.  This past year, they were able to address some streambank stabilization issues through MDC and our C-650 Streambank Stabilization practice installing 3 rock weirs and then using our N-391 Riparian Forest Buffer practice to plant trees and shrubs to protect the fields from further erosion.  They are currently enrolled in the Conservation Stewardship Program (CSP) to improve their existing watering facilities, planting pollinator habitat and to  improve their soil health through a lime/legume overseeding program. Congratulations!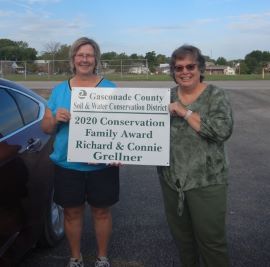 2020 Earth Team Volunteer Award
* FY20 Earth Team Volunteer Award goes to Jerome and Carolyn Winthorst.  Jerome became a member of the Gasconade County Soil & Water Conservation District Board of Supervisors in 2006.  As a member, he and his wife, Carolyn, became active in our 4th Grade Field Days.  They assisted with cooking and serving the meals to over 250+ children and Carolyn has also assisted with the Farm Safety Sight on numerous occasions. Even though Jerome left the Board in 2010, he and Carolyn have continued to come and support the 4th Grade Field Day event each year.  Carolyn has also served on numerous election judge panels.  They are always ready to offer a helping hand at our events, with a big smile on their faces.  Thank You!!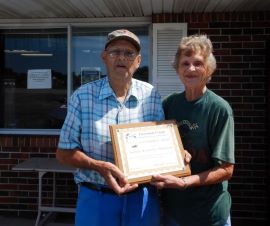 2020 Partnership Award
* FY20 Partnership Award goes to Leann Meyer  and the Legends Bank. Leann has been an active member of the planning committee for the Osage, Maries, and Gasconade (OMG) AgriPride Women in Agriculture event since it began.  She has brought many wonderful ideas and has served in different positions on the committee.  This event is considered to be one of the largest single events in our county and continues to grow each year with two workshops and a main speaker being offered for ladies to learn and network with other female landowners. Legends Bank has not only provided Leann the opportunity to serve, but they have support this event and others through monetary donations as well as loaning us their grill when needed.  We are grateful for all of the support that Legends Bank and Leann Meyer give to our mission.  Thank You!!